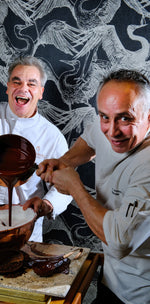 Kreuther Handcrafted Chocolate is the creative collaboration between Chef Gabriel Kreuther and Pastry Chef Marc Aumont. After 20+ years of culinary partnership, the pair opened Kreuther Handcrafted Chocolate next door to the world-renowned restaurant Gabriel Kreuther in the winter of 2016. Only the finest quality ingredients and exceptional craftsmanship served in beautiful, thoughtful packaging represent the heart of Kreuther Handcrafted Chocolate. Providing quality confections with the cosmopolitan spirit of NYC; each bite is a tasting experience that stimulates your senses and evokes memories of cities around the world. A true chocolate artist, Chef Aumont, along with his team, create inventive chocolates, pastries, and chocolate sculptures rooted in classical French technique and inspired by traditional, yet surprising flavor combinations. When the creation of new flavors begin, it starts with the idea of telling a story and evoking a specific feeling through the medium of chocolate, while respecting the origin of the product and adding complimentary ingredients to create a complex and distinctive tasting experience. Kreuther Chocolate carefully selects its ingredients, like pistachios from the San Biagio region of Sicily, or a green tea reminiscent of fragrances used to perfume a hammam, a Turkish bath. The blend of chocolate chosen as well as the type of chocolate bean are all part of a story – the tale of the terroir, the people who grew it, harvested it and roasted it, culminating into the ultimate goal of crafting the best chocolate to be shared with the community of New York City and around the world.
MEET OUR TEAM
Award winning, top-of-their craft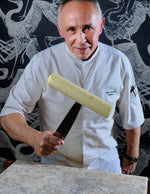 Marc Aumont
Executive Pastry Chef
Born in France, Aumont spent his childhood in Chamonix-Mount Blanc surrounded by the world of astry at his parent's bakery. From a young age, he spent many hours in the shop with his father, learning classic French pastry techniques and flavor combinations, while developing a deep fascination for the art of chocolate and sugar sculpture.
After 17 years with the family business, Aumont enrolled in the Culinary School of Pastry in Groisy, France for his professional degree. After graduation, he moved on to the Ecole Nationale Superieure de la Patisserie in Yssingeaux, France, where he spent six years focusing on confectionary, ice cream and chocolate studies.

Aumont relocated to New York City in 2000 to work with chef David Bouley at Bouley Bakery. There, he eveloped traditional French recipes with a modern flair, before moving into a restaurant setting at Compass restaurant, where he was praised for his artful desserts by New York magazine, New York Observer and The New York Daily News.

Aumont was first introduced to Kreuther in 2004, when he joined the opening team of The Modern, as executive pastry chef. The two worked together for ten years, garnering praise from local and international press, as well as a three-star review from Pete Wells of The New York Times, who called Aumont's mignardise trolley an "unexpected delight." In 2012, he was awarded one of the top 10 Pastry Chef's in America by Dessert Professionalmagazine.

At Gabriel Kreuther, Aumont continues his collaboration with chef Kreuther, and brings his singular touch to the dessert menu, calling upon his experience, travels and dedication to seasonality to create beautiful and delicious desserts with universal appeal.

In November 2016, Aumont and chef Kreuther teamed up to open Kreuther Handcrafted Chocolate where Aumont continues to influence the confectionary development with his team.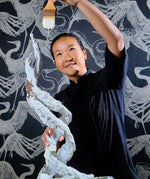 Angela borah
Head Chocolatier
Originally from South Korea, Angela Borah grew up in Spain, Ghana, and Peru before calling New York City her home. She garnered experience in the pastry field at the notable Del Posto restaurant, three-Michelin-starred Per Se as well as New York boutique MarieBelle Chocolate. Her trajectory led her to two Michelin-starred The Modern, whereas Pastry Sous Chef, she managed the acclaimed pastry program under the guidance of Chef Marc Aumont.
Currently, as Head Chocolatier, she oversees the chocolate program at multiple award-winning Kreuther Handcrafted Chocolate which more recently was named 2021 Best Chocolate Shop in America by Food & Wine Magazine. Angela is a member of Les Dames d'Escoffier New York and in 2020 was a fellow at 92Y Women in Power Belter Center for Innovation and Social Impact Leadership Program.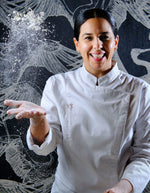 Priscilla Scaff-Mariani
Pastry Chef
Chef Priscilla Scaff Mariani, Pastry Chef at two-star Michelin restaurant Gabriel Kreuther in New York City, is a graduate of the esteemed Culinary Institute of America in Hyde Park. She was previously a baker and pastry cook at Danny Meyer's Michelin-starred The Modern, as well as NYC celebrated mainstays Balthazar, and Épicerie Boulud. In 2015, Chef Priscilla joined the opening team to establish the pastry program at Gabriel Kreuther alongside Executive Pastry Chef, Marc Aumont, creating dishes such as their Fragrant Caramel-Chocolate Parfait with halva and yuzu sorbet and Tahitian Vanilla Soufflé with limoncello sorbet and lemon confit.
Careers/Work with Us
Thank you for your interest in working at Gabriel Kreuther restaurant. Be part of an incredible team of dedicated, professional and passionate individuals providing stellar hospitality to our guests. Please find our current open positions via Culinary Agents.
Feel free to also reach out to us with your resume via jobs@gknyc.com.
View Positions
Partnerships
Chef Gabriel Kreuther has partnered with the iconic Baccarat Hotel located in midtown to oversee the culinary program of the 5-star establishment. In the Grand Salon, at the Bar, during Afternoon Tea or in the comfort of their rooms, guests can enjoy Alsatian-inspired dishes by the 2-star Michelin Chef and Culinary Director.
For partnership inquiries, please contact marketing@gknyc.com.
Explore More

We are an extension of the Gabriel Kreuther restaurant family
Chef Gabriel Kreuther combines his masterful classic French training and Alsatian heritage with his love of New York City to create an invitingly luxurious experience in the heart of Midtown Manhattan.